Southern Ocean Program ....
U.S. GLOBEC is a contributor to a multi-national effort in the Southern Ocean under International GLOBEC. U.S. GLOBEC studies in the Southern Ocean will be concentrated in the vicinity of the West Antarctic Peninsula. Krill, an essential component of the southern ocean food web and a commercially important species, has been designated as the primary target species in this program. Predators of krill - including sea birds, seals, and whales - depend critically on this food resource, and will be a major focus of Southern Ocean GLOBEC research. Sea ice plays an essential role as a habitat both for krill, which feed feed beneath the ice, and their predators. Evidence suggests that interannual variation in the extent of sea ice affects the abundance of krill. Understanding the role of climate factors affecting sea ice will therefore comprise a critical component of the Southern Ocean GLOBEC research program. The seasonal melting of sea ice triggers a phytoplankton bloom, which in turn plays an important role in the production characteristics of the system as a whole ....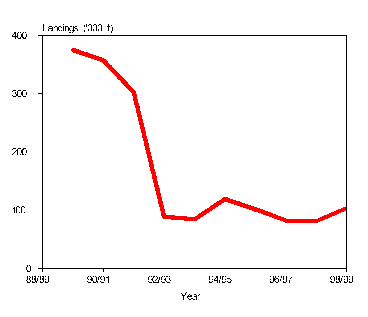 Landings of krill from the Southern Ocean ....
The U.S. Southern Ocean GLOBEC program will take place during the Austral winter, and will be complemented by other seasonal programs conducted by Germany and Great Britain. Currently, little information is available on the over-wintering strategies employed by krill and their predators, and the U.S. GLOBEC effort will fill an important gap in understanding the ecology of this vulnerable system. U.S. GLOBEC studies will also examine how krill are retained in oceanographic domains favorable to survival, and therefore will provide an important point of comparison with other GLOBEC study sites. Field studies are slated to begin in 2001; two field years are planned ....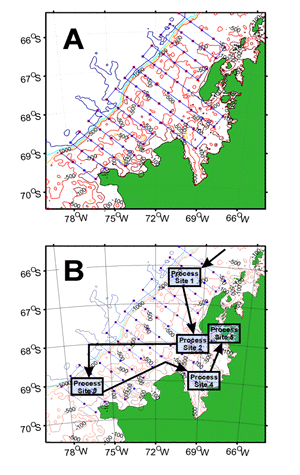 Location of: (A) Sampling Stations in the Marguerite Bay region, and
(B) Process Study Sites ....
---

[ Table of Contents ]    [ Top of Current Page ]